Posted by

Dave Perlowski

,  June 9th 2022
Some of the most coveted drums in the world: Junior Tirado, Gonzalo Vergara, Isla, Timba Ismael, Sonoc and Requeña, were made with genuine mahogany, and if you have ever had the pleasure of playing one of these beauties you experienced a richness of tone and appearance that no other wood can deliver. They are durable but incredibly light and the experience lingers for decades.
Swietenia mahogany, Cuban Mahogany, is perhaps the most celebrated wood in furniture making. Very easy to machine, it sands down beautifully and if you've ever been to a high-end steakhouse (would you care for a $15 baked potato to go with your $75 steak?) you know the opulence that mahogany wainscoting projects. Genuine mahogany is also highly rot-resistant, which made it a favorite material for boat building.
So, what does this have to do with congas? Well, to begin, it is lightweight coming in at about 5 pounds per cubic foot less than American Ash and because we play some of the heaviest instruments in any musical setting, every ounce saved at load-out counts!
Secondly, genuine mahogany vibrates at a slightly slower rate while maintaining sonic integrity than most other hardwoods out there. We will do a future article and an accompanying video to demonstrate these differences but suffice it to say that luthiers and drum makers worldwide select mahogany as a preferred material when they want their instruments to speak in rich, warm tones.
Last, the same characteristics that made mahogany a furniture industry standard, the wood's close grain and its workability, are what gives drums an heirloom quality. Just look at the beauty of this set;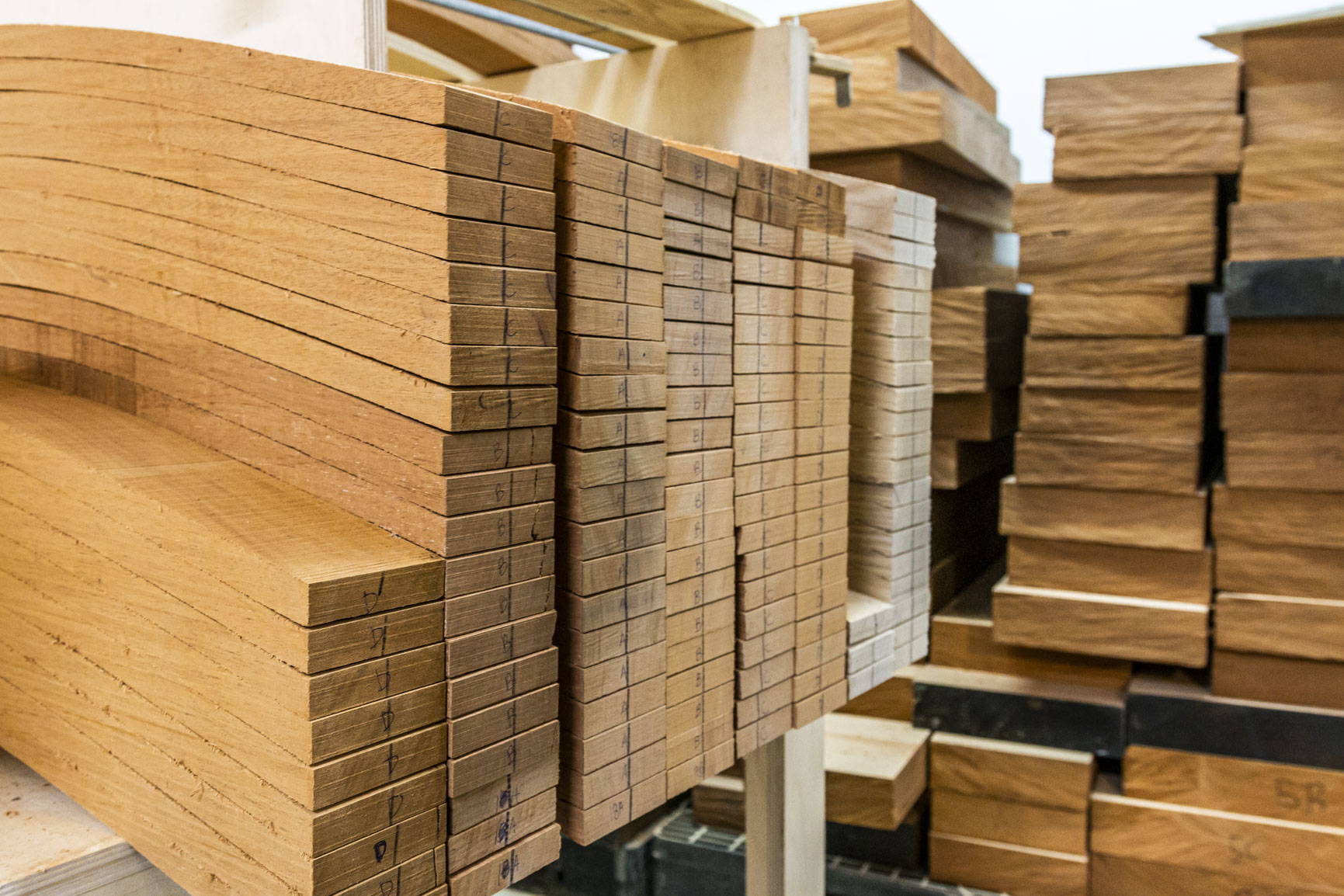 But why the mystique? Well, for one thing, Swietenia mahogany only comes from Cuba where the species was banned from export in 1946 because of overharvesting, wastefulness (it was commonly used for firewood) and high demand. You just can't get it anymore. Genuine Cuban Mahogany, that is.
Enter Swietenia macrophylla
Except for the country of origin, Swietenia macrophylla is identical in nearly every respect to Cuban mahogany. Also known as Honduran mahogany, genuine mahogany, Brazilian mahogany, big leaf mahogany or American mahogany, this wood is virtually indistinguishable when compared with its Cuban cousin and while there remains an ample supply of indigenous growth, plantations have been established to assure future availability. Like Cuban Mahogany, the color of Brazilian Mahogany varies from dark to red or pink, and with a tight, straight grain that creates a characteristic chatoyancy (gem-like quality), the wood seems to be a gift from above to all conga players.
As of this writing, MOPERC has a supply of Brazilian Mahogany waiting to be made into fine drums, but it should not be taken for granted that the supply will last or whether additional shipments of the beautiful wood will be available in the future because demand for Swietenia macrophylla remains high. With its current supply, MOPERC is perhaps the only company in the world manufacturing drums from mahogany and it can even build an entire set from a single slab providing unmatched uniformity.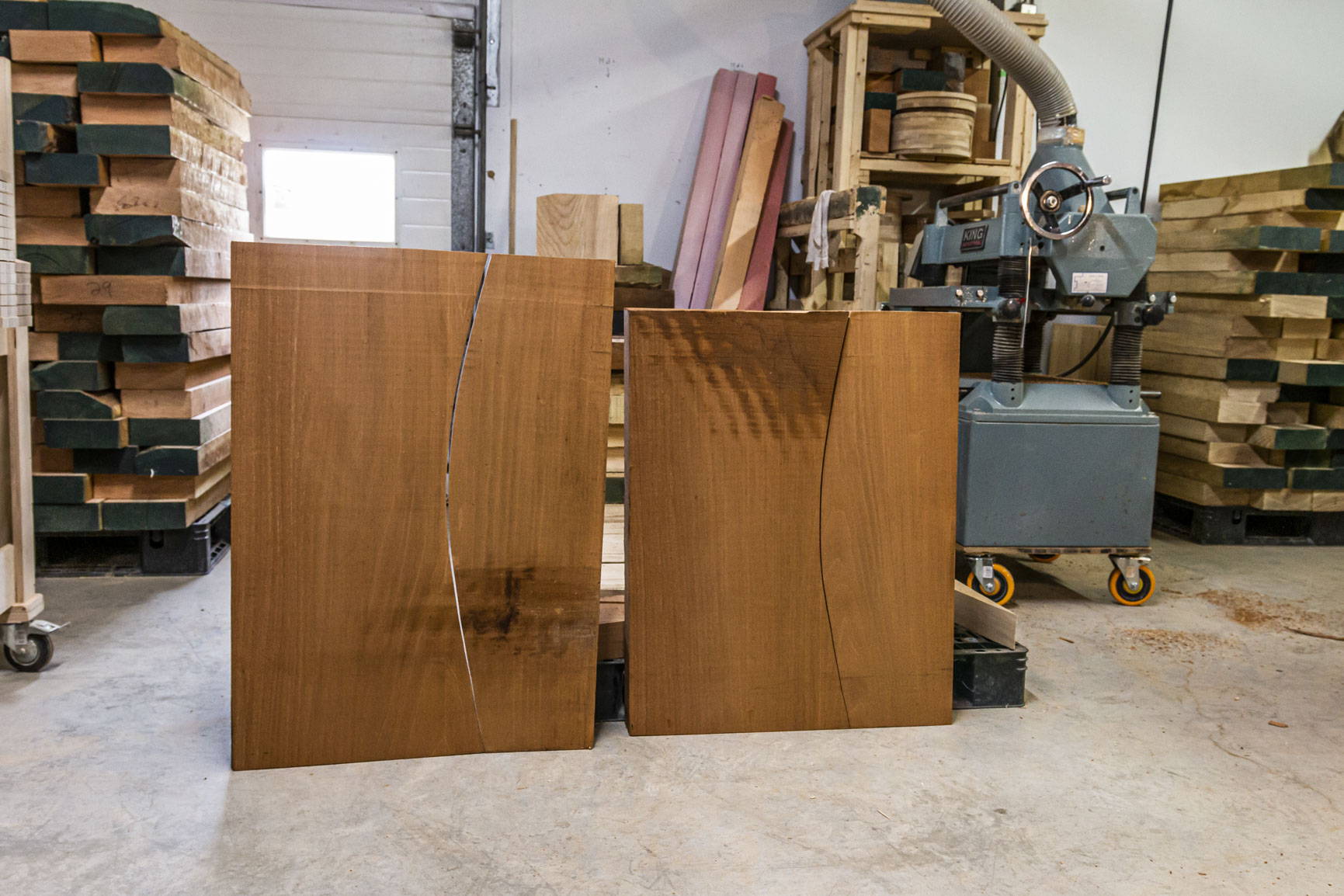 Occasionally, there are some who may question MOPERC's use of natural resources to manufacture its products. Mahogany, especially, has drawn criticism since the wood comes from the diminishing tropical rainforests, but even though MOPERC purchases its mahogany from plantations when possible, the company recognizes a responsibility to be a good steward for the planet and is working to create a sustainability plan that will replenish or build upon the resources it uses and even though the company accounts for using fewer than 5 mahogany trees annually, if it can replace those with twenty, the earth wins. Now, if only the cattle ranching industry, which accounts for a large majority of the deforestation (thanks burger chains), would only do the same!
The Mahogany "Also Rans"
There are a handful of other wood varieties that mimic the qualities of Cuban and Brazilian mahogany, but it is unknown whether any are currently being utilized by drum makers. African Khaya, for example, is similar in color but does not finish with an appearance as smooth as the other Swietenia varieties because its looser grain produces a "wavy" effect. Additionally, its grain displays an "interlocking" appearance making it more difficult to work. You can probably find used drums from other makers made from Khaya.
Sipo, another wood that is known to have been used by other makers, comes very close to the Swietenia varieties, but it lacks the "workability" of Genuine mahogany, and it is considerably darker, heavier and does not shine to a luster like the others. That aside, Sipo is relatively rare and difficult to obtain.
There are many other wood varieties that have similar characteristics to Cuban and Brazilian mahogany, but none match the "workability" or the capacity to produce the same pure tone from a conga. Certainly, Brazilian mahogany is difficult to obtain and sells at a premium over other wood species, but those are just minor inconveniences to those who know the beauty and the tone that the wood produces.
In addition to American Ash, Cherry wood, American Black Walnut and Maple, MOPERC will continue to offer mahogany drums as a selection for a limited time.