By Dave Perlowski
Depending upon your perspective, five years can either be so insignificant as to be unworthy of consideration or it may be of monumental importance. For a child awaiting the arrival of a birthday, even a week may seem like an eternity. On the other hand, the geologist studying the course of an era probably wouldn't even consider a period as short as five years.
For new business owners, though, the five-year mark is generally considered to be the make-or-break point, and it is a critical indicator of a business's chance of survival and for those that make it beyond, it's a pretty good bet that long term success will follow.
February 1, 2023 marked the five-year anniversary of Francis Mercier's ownership of MOPERC percussion. It's a milestone, certainly, but when considering the challenges he has successfully navigated, especially that of COVID, the smart money should be placed on the company thriving well into the future.
You may call him a dreamer
Upon his return to Canada after an extended stay in Cuba where he and his brother immersed themselves in the world of Latin rhythm, Francis rushed to purchase a set of affordable congas so he could practice what he had learned from his mentors. He quickly found, however, why those drums were affordable. They didn't come close to replicating the sounds he had grown accustomed to on the island, so he set out to find drums that were more to his liking.
He visited a Montreal music store that happened to have a set of MOPERC congas, and, as happens with most who first experience the pure sound and superior construction of the company's hand drums, Francis was convinced that no other drum could compare and he became intent upon learning as much about Michel Ouellet's company as possible.
"Over the years, I became closer and closer to that company, until one day, when Michel Ouellet offered me to give him a hand in his shop, the passion exploded and the dreams started to get real," Francis said. And after months of helping Michel in the MOPERC shop, absorbing every detail of the drum-building process, Francis convinced Michel to sell him the business.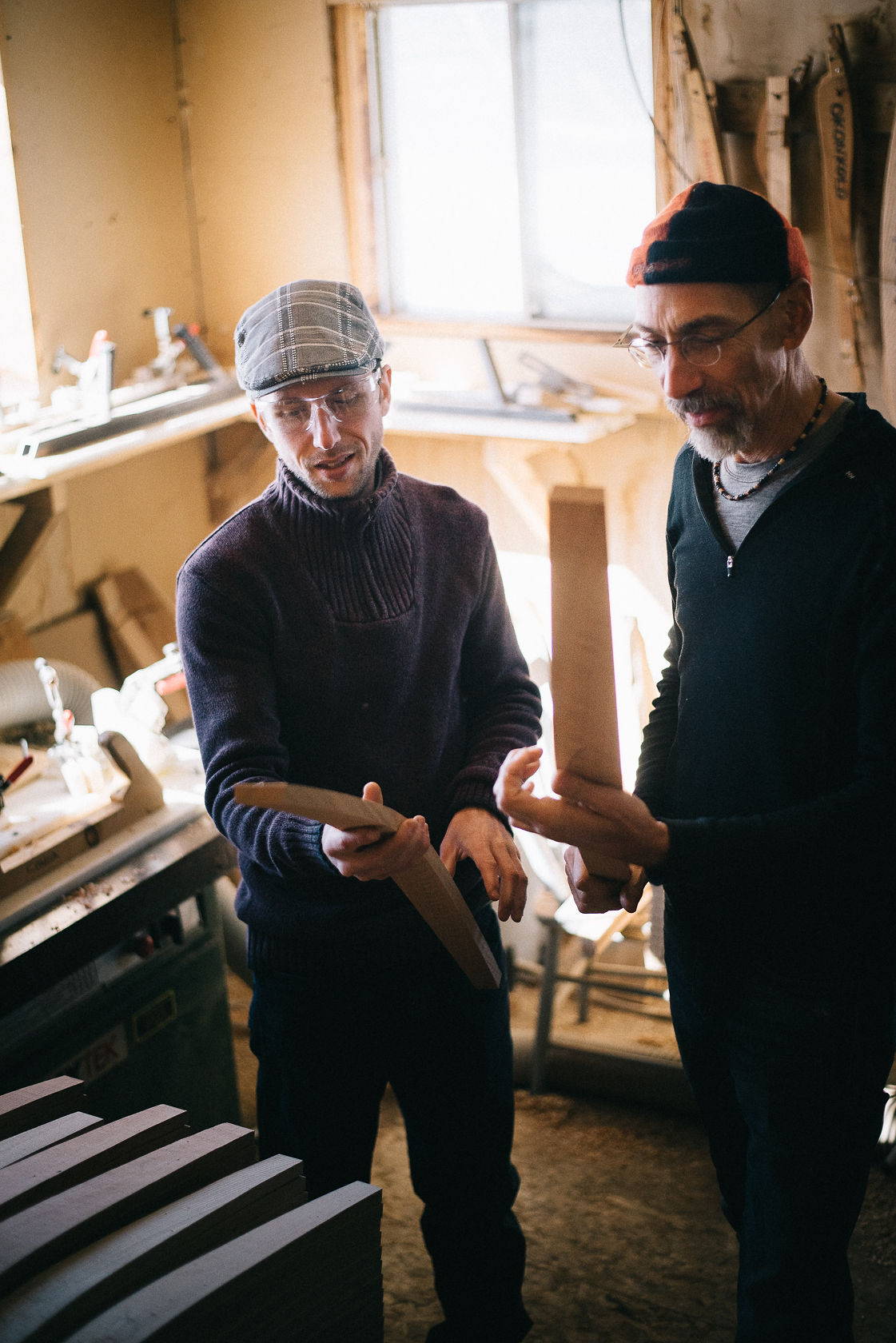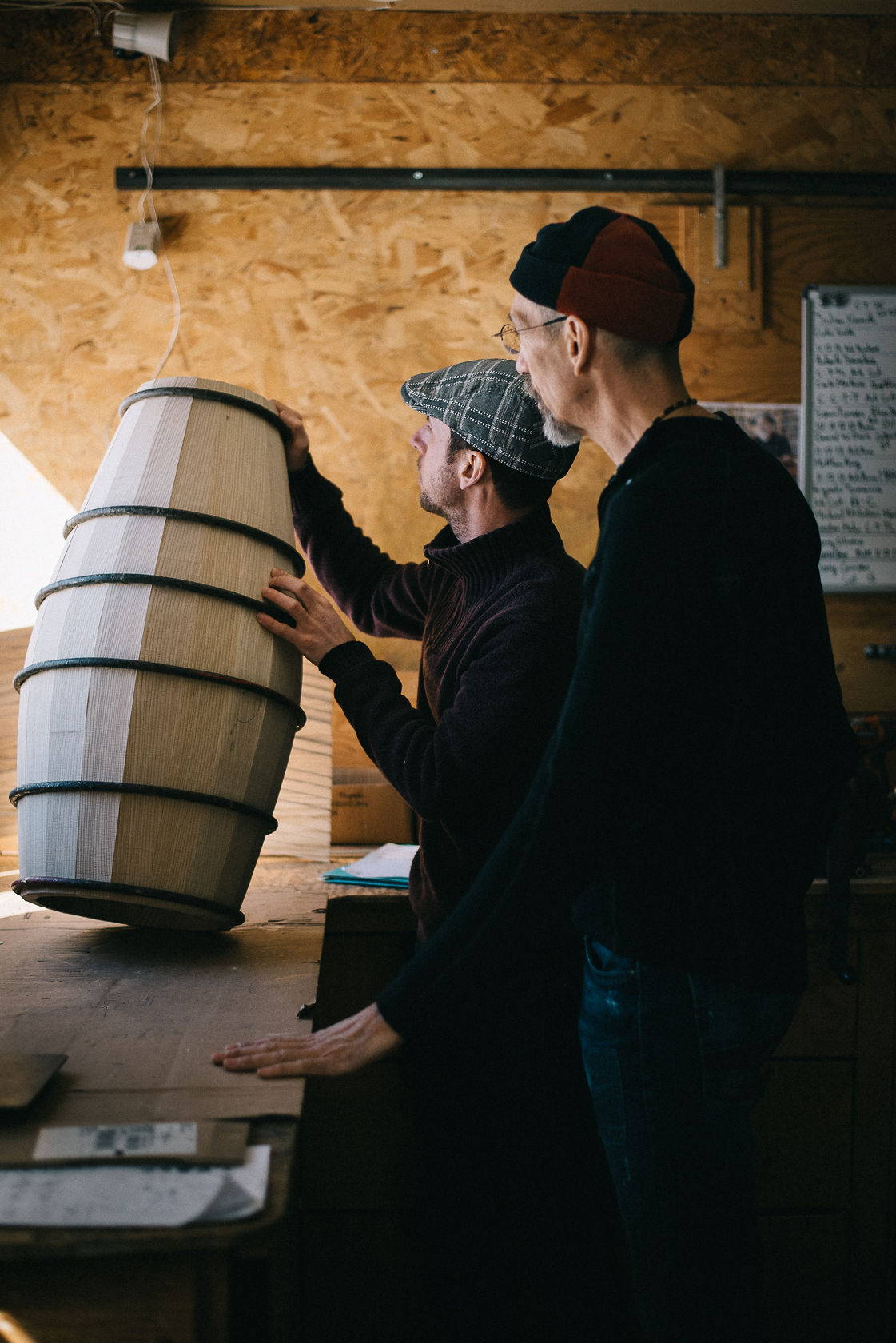 According to Francis: "From day one, I had to manage customer service, dealing with providers, production, inventory, paperwork, promotion, shipping, employees, etc…MOPERC was a small business, it still is, but there were a lot of things to assimilate at once. Every day, I would get up at 5 and go into the shop super early just to take care of everything that needed to be done."
"At first, I was a bit scared that customers wouldn't welcome me as the new owner." Francis said. "But fortunately, when I took over, there were about 50 drums of all varieties in the order book and that gave me time to better understand the details of the business."
"As weeks went on, though, not a single new order had come in and I was really getting nervous, wondering whether any client would ever order. I was stressed and became so sick that I could barely walk for several days because the fear of having made the wrong decision to buy the MOPERC company had shut my body down."
Fortunately, for Francis, and for the hand drumming community, Laritza, Francis' wife, soothed his mind and prophetically assured him that his order book would be full for the remainder of the year. And she was right! By mid-March, new orders began coming in, creating the new challenge of fulfillment. But that was a good problem and it forced Francis to become more organized and to work more efficiently.
Every successful business owner can point to events that had profound effects on their enterprises and Francis Mercier is no exception. The first occurred just three months into the newly-made entrepreneur's tenure when Francis discovered a source for Brazilian Mahogany. The wood, highly valued for its sonic and aesthetic qualities, continues to be so rare that few, if any, modern conga manufacturers offer it to hand drummers as a choice. So with his discovery, Francis maxed out both his business and personal credit cards to purchase as much mahogany as he could. It turned out to be a good gamble, too, because once word got out that MOPERC could offer high quality mahogany congas, the orders soared.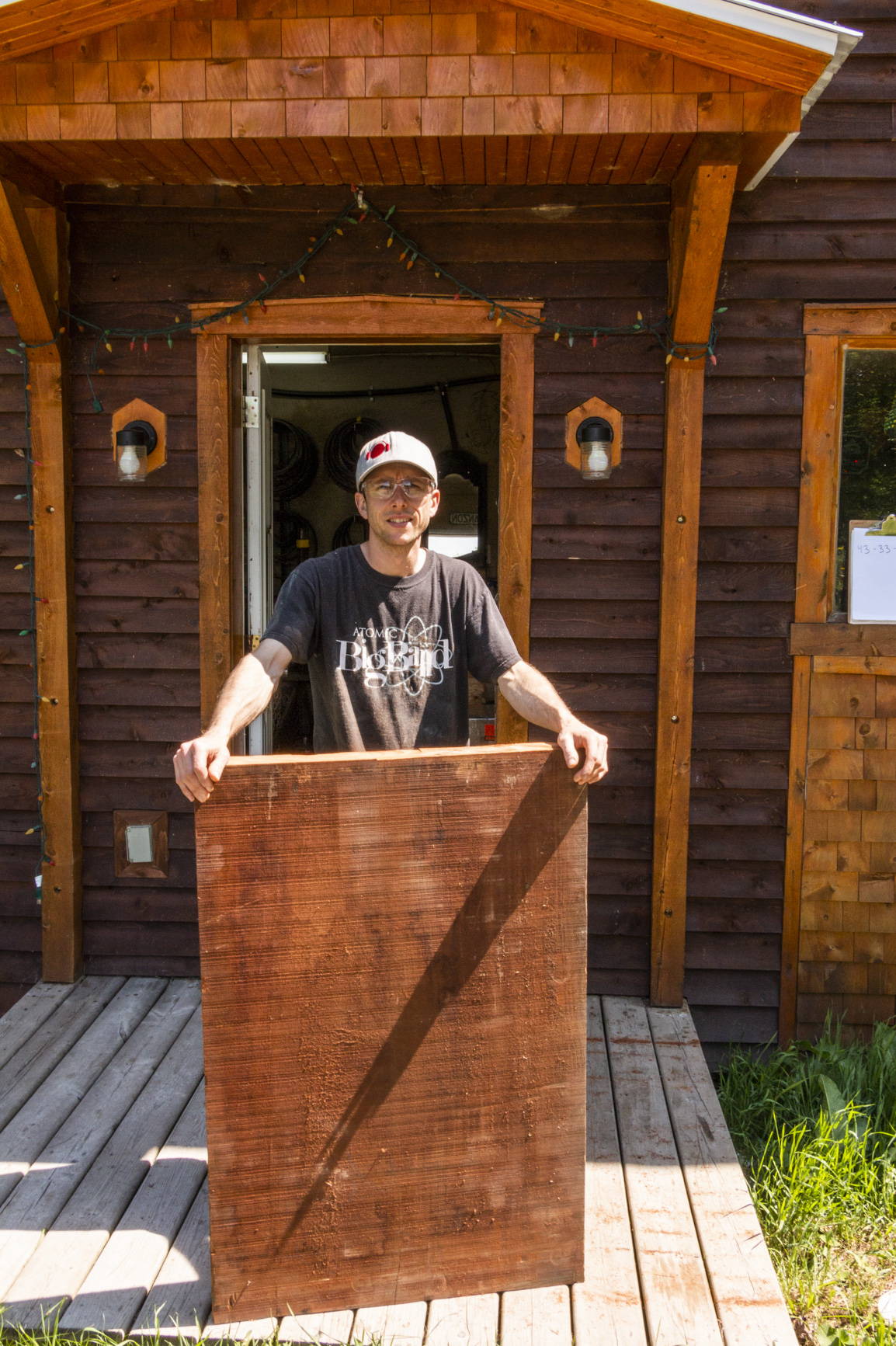 "And then…Poncho Sanchez called me," Francis says. "He was looking for a new conga manufacturer to collaborate with since REMO had stopped making drums." (See related article). "The GRAMMY winning conguero had heard about the superb quality of MOPERC congas and wanted to explore the possibility of forming an artist relationship, and after working out the details over several meetings, the deal was done in time for MOPERC congas to be featured on Poncho's GRAMMY Nominated Trane's Delight album, leading to another burst in orders." MOPERC's relationship with Poncho Sanchez has become so solid over the years that in the fall of 2022, the company created a limited signature line of drums in Brazilian Mahogany (of course) bearing the artist's name, and by many accounts, they are the lightest and best sounding MOPERC drums yet.
Take note that the limited edition Poncho Sanchez signature series is still available this year.
"AND THEN… Eric Pérez called to tell me he would be using MOPERC drums!" With more than 60,000 followers, Eric's A Percussion Life  is one of the most successful YouTube hand drum instructional channels, and again, with thousands of new exposures to the incomparable MOPERC sound, the boost to the business continues to be a blessing.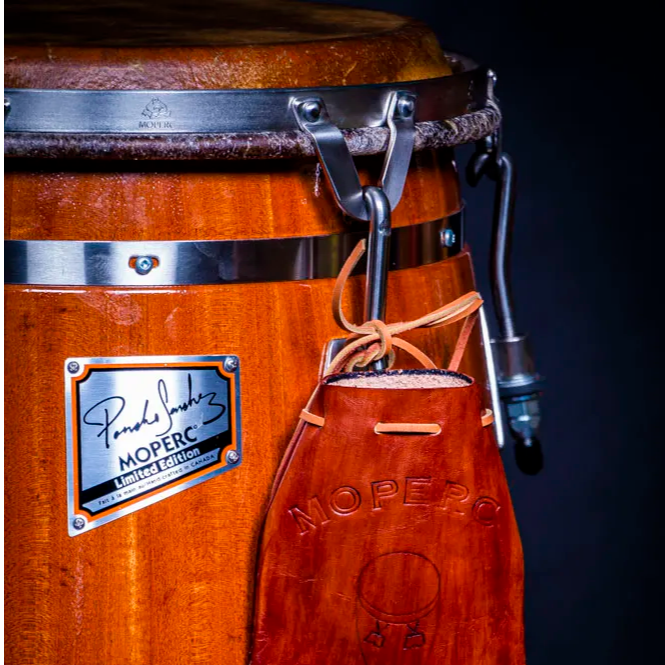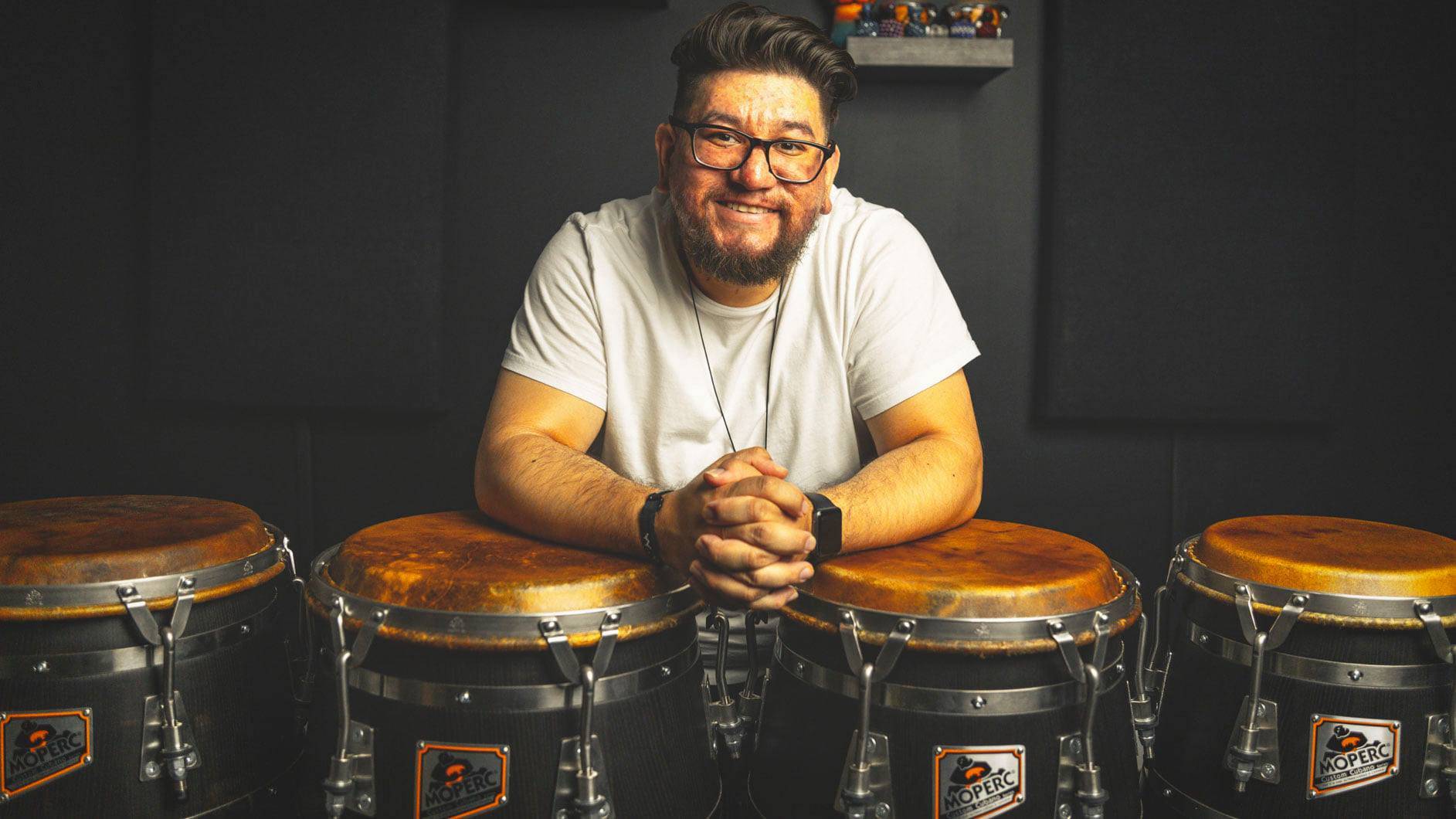 You know, it don't come easy
Certainly, those first several months after purchasing the MOPERC business were stress-filled for Francis: no orders meant no cash flow which meant that debt service, as well as basic living needs, were a challenge. There were other challenges, too. "Before the pandemic," Francis recalls, "we had outgrown the original shop and we moved the entire operation into a 5,000 square foot facility. By that time, orders were really beginning to come in and I thought that we had turned an important corner. Then COVID hit. We had orders for 100 new drums but our employees were not able to come to work, I found myself managing every stage of the process. It was exhausting work but my passion to deliver is what kept me going."
"Moperc was like a baby to Michel Ouellet, who created from scratch all those products in the 80's. I was determined to keep that flame burning, no matter what! For me, it is now my lifetime mission to continue making some of the best conga drums in the world."
For Francis, there were other challenges that came with entrepreneurship, as well, and anyone who has ever owned a company will quickly add that unless you're married to the business, success is doubtful. "Being so busy in the first years did not leave me a lot of time to take care of one of the most important things; sharing my passion with the community," and anyone who has ever heard Francis lay his hands on a set of congas will quickly agree that he has much to offer the percussion community beyond his drum making skill.
To be sure, Francis is never one to run from a challenge. It's in his DNA to solve problems, making them better and learning from the experiences. For example, imagine the challenge of moving the entire MOPERC operation from a twelve hundred square foot shop to one of more than four times that size. Events like that are incredibly disruptive to a business and even with the most detailed plan, trial and error reigns and now MOPERC resides in a highly efficient, modern shop with world-class, skilled employees capable of producing superior quality drums at a high volume.
But having a state-of-the-art facility is meaningless unless it is in continual operation. The added fixed business expenses need to be fed constantly and that only happens by strong business growth. " By luck, in Canada, there's many business support plans (like SADC des Sources, Desjardins and MRC des sources who are constantly supporting Moperc) and I was able to get some coaching from specialized companies. The results were major improvements in the management, workflow and human resources.
This coaching continues, as there are still many aspects to improve here," Francis acknowledges.
So what improvements were made? To begin, Francis has streamlined production so the process flows one step to the next without backtracking. He has installed a new lathe, a top end spray booth and a highly accurate table saw that quickly cuts precise stave angles. And he has hired skilled employees who understand the reputation of MOPERC drums and perform their work with pride.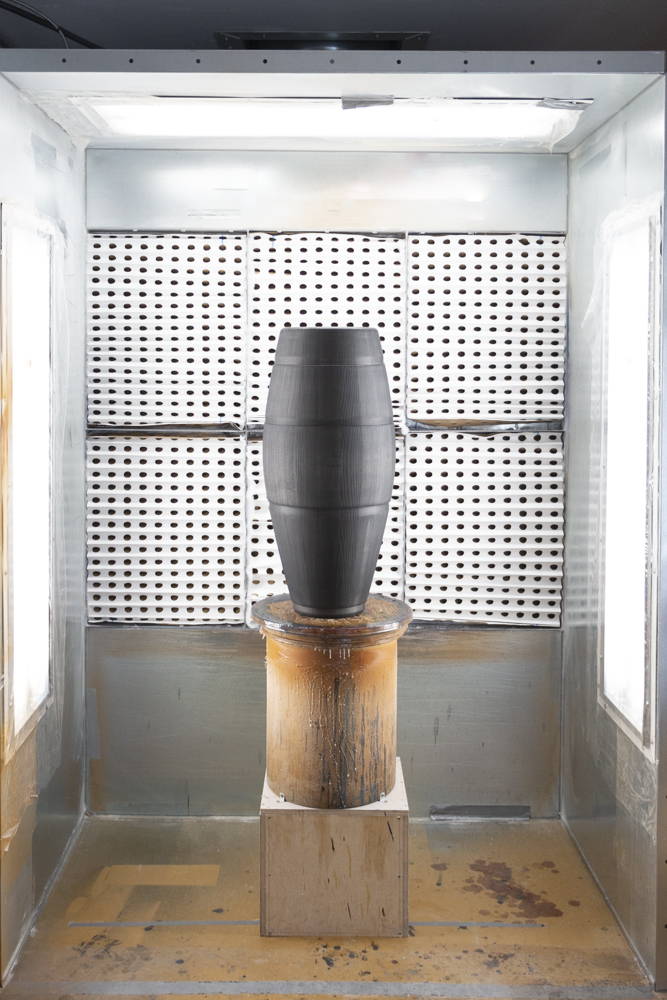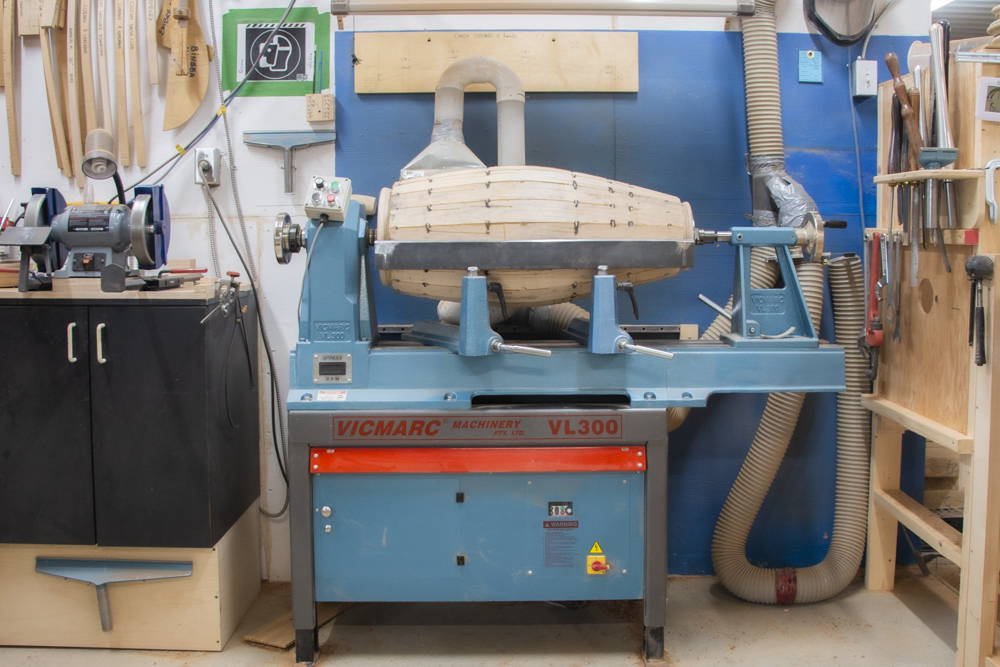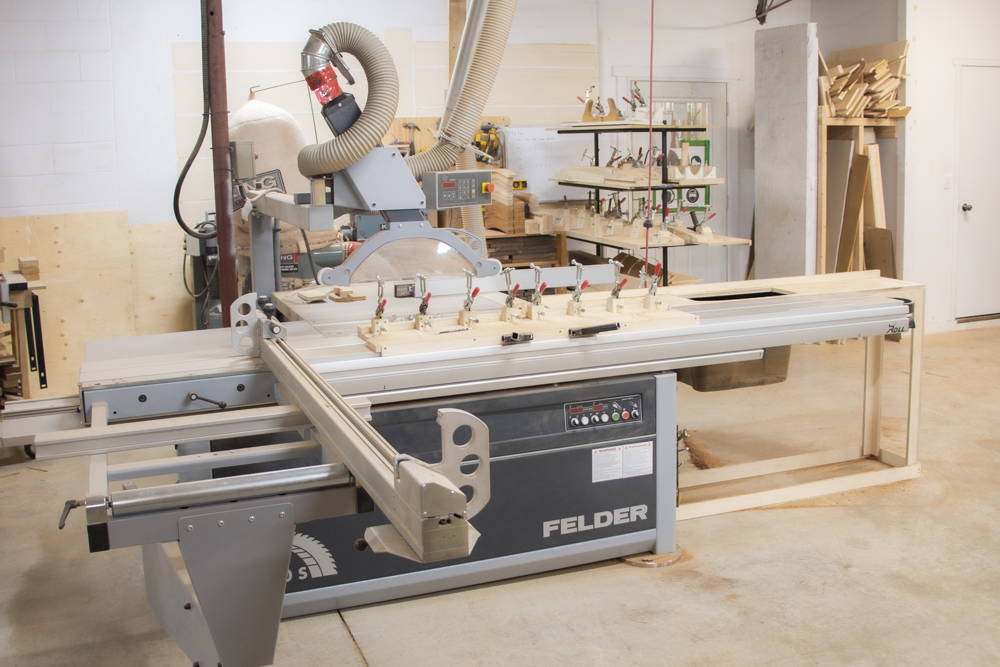 Each of these changes combine to deliver an enhanced customer experience with a compressed lead time for drums. Where it might have taken four months for an order to be delivered in the past, custom drums are now in customers' hands within five weeks! In addition, Francis has built an on-line store with ready-to-ship drums, so if a customer sees something there that meets their needs it'll be delivered within just a few days.
Last, applying the principle of economies of scale, Francis has been able to reduce pricing for the ash version of the two most popular lines, Custom Cubano and Tropical, by building those congas in quantity. With no compromise in the MOPERC quality, the tropical series can now be purchased for a price that is comparable to mass-producers' top-of-the-line "signature series" congas.
As mentioned, Francis has much to offer the percussion community beyond the remarkable drum making skills passed down by Michel Ouellet. Francis is an outstanding conguero who is genuinely interested in building awareness and uplifting the talents of others. He is also a trained audio technician and those talents factor nicely for the continuing growth of MOPERC and for the music industry, in general.
Once MOPERC had moved into the new shop, there was extra room left over, so Francis made another dream come to life by building a high-end (of course) audio and video recording studio where he makes product and artist demo videos. "One of the first things I organized when getting to the new shop was a masterclass event with Melissa Lavergne. 40 people showed up in Danville to see her class and I was really happy to share something directly with the community."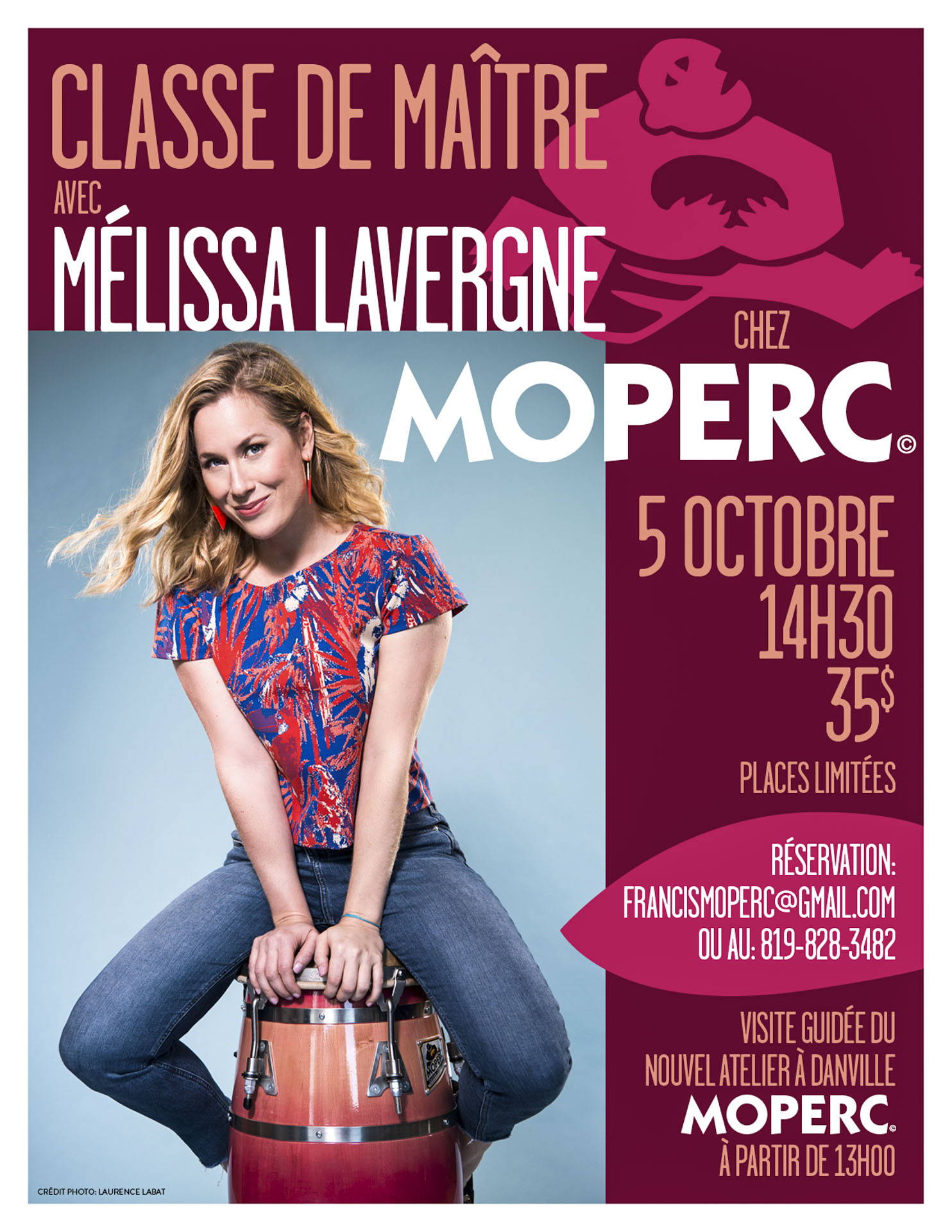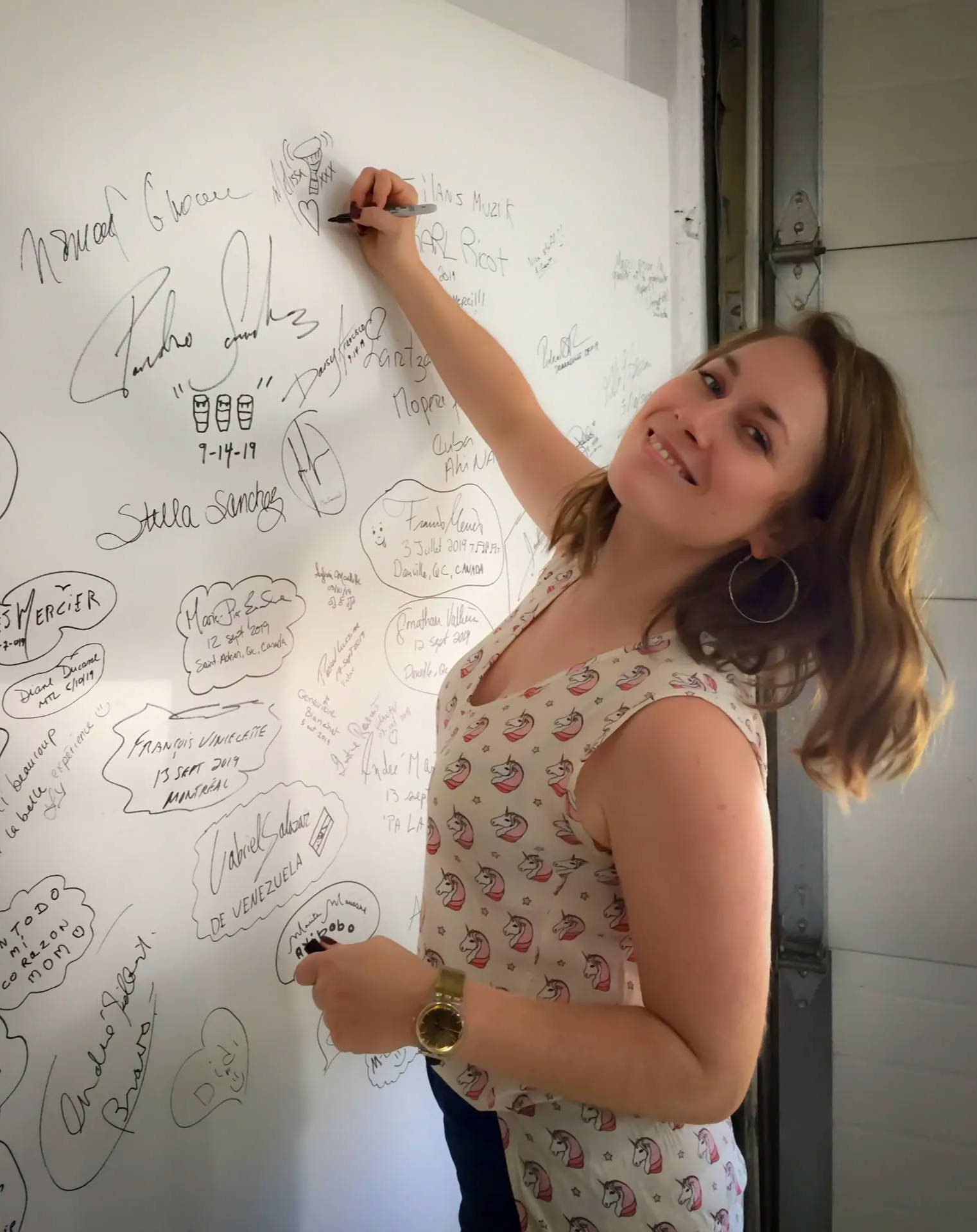 "Five years have passed like a gust and I'm happy with all the accomplishments;
managing improvements, new machines, lots of new jigs, a dream team and I'm getting closer to what I've dreamed since the beginning; sharing more directly with our customers.
A lot has happened with the MOPERC brand since Michel made that first conga thirty years ago, and when you think of what Francis has accomplished in just the last five years, it's a good bet that shades will be needed to view the MOPERC future!
What's in store? Well, for one thing, the recently announced affordable Tropical and Cubano congas have seen tremendous demand. With this line, customers can purchase natural-finished ash drums made to the rigorous MOPERC specifications (stainless steel hardware, premium skins, quarter sawn solid staves) for a cost that is very close to the top line congas from mass producers. Now, the world's best conga drums are highly attainable. Then, in celebration of the thirty years since Michel made his first MOPERC conga, there may just be a new anniversary model coming out. Can't say much about that now, but the shape may be familiar to some. We'll need to wait a little, but it'll be worth it!